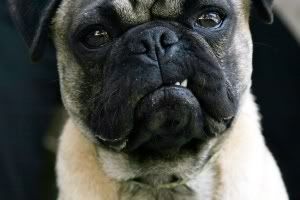 A few years ago, I read a Garfield strip where Garfield's owner asked him and his not-so-furry canine bud if they wanted to go for a walk. It went something along the lines of "Do you wanna go for a walk.... Do you?..... Do you?..... You wanna go walkies?.... Do you?..... Do you?" and so on and so forth. All the while, his pets were becoming more and more frenzied, until they turned on him.
Then, last night, there was a story in the news about some guy in Bosnia who had been out fox hunting (shame on him) with his dog. He'd been minding his own business, when he suddenly heard a shot and felt a sting in his leg. He turned around and saw Man's Best Friend with its hairy paw on the trigger. They say that he might have to amputate his foot. I bet he was one of those walkies-people and his pooch knew how to hold a grudge.
Then again, if I had some weirdo following me around wherever I went, collecting my poops, I'd probably shoot him, too...
Pic of pug by Chance Agrella for http://www.freerangestock.com/details.php?gid=&sgid=&pid=1460