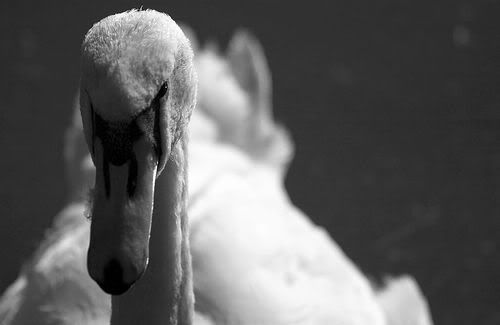 Ever seen that Hitchock (or however you spell that) movie "the birds"? It had lots of different types of birds, but I can't remember seeing any swans there. If there's one thing I've learned over the years, it is that the swans are the ones you need to look out for.
I first started to suspect this when I was walking the dog one cold winter night. There's this lovely path along the river that we use sometimes. During the whole walk, I kept hearing little sounds behind me, but everytime I turned around they were gone, and there was nothing there. But after a while, I saw something moving out in the water. Right there, in the middle of the river, with it's eyes fixed directly on me, was a huge, white swan. It looked evil.
After that, it kept happening every time we walked along the river path. The swan would turn up and follow us, all the while it was staring at us, but it never once came out of the water.
Then, it was just before christmas (during that mild period we always have a few days before christmas eve, when everyone worries that we're not going to get any snow this year), we met a man. He was out walking all alone. He smiled and nodded at us. Said something along the lines of "what a pjutty woggie" (to the dog, not me) as he walked by. Then there was a mighty splash and an even mightier scream. I turned around to see the woggie-man run for his life with the swan coming after him, hissing like a snake. Never before have I seen a swan move like that.
I still walk on the river path every now and then. It's pretty. But the swan is always there. And I always bring my dog.
Picture by Chris Sainsbury