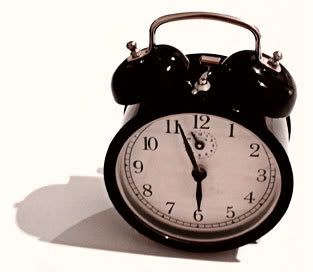 Whenever I have morning classes, I have to get up at six am if I'm going to have enough time for all the crap that people do in the mornings (this includes standing in the middle of the bathroom whilst staring straight ahead and trying to remember what you're doing there, a process that takes about ten minutes)
and
make the morning bus.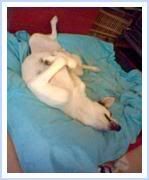 Morning crap includes bathroom activities, such as my zombie moment, getting the dog to go out and do her business, having breakfast and packing my handbag. The first problem is the dog. She's definitely not a morning… uhm… person. As soon as she sees me getting out of bed, she clenches her eyes shut and doesn't want to get up at all. I read somewhere that dogs don't know how to pretend. The hell they don't. They just don't have the intelligence to do it
well
. I, of course, see right through her clever sleeping-disguise, and make her come downstairs with me. At this point, she's actually quite eager, rushing down the stairs like a white, furry bullet. There's a large chest in the hallway, and between it and the stairs there's a rug. The dog lands with all four paws on the rug, causing it to slide across the floor. She manages to turn sideways while sailing on the rug, and slams her side into the chest, which then always makes a small jump towards the right, in order to stop. Then she does the bullet-impression again, heading straight for the couch (her second favourite sleeping spot in the house). This is where I intersect her and force her to go outside. Once she's actually outside, she's probably got the slowest bladder of any dog in existence. I swear that she sniffs
every
single damn grass in order to find the perfect one to pee on. And before she gets that far, she has a zombie moment of her very own, which is almost as long as mine.
Breakfast is also a bit tricky. I usually get around to that at about 7:45. The thing is that my stomach doesn't actually wake up until around ten. It's very hard to get an unconscious stomach to digest food, but I can usually force down a sandwich. Being a mature adult, I always watch the cartoons and drink a large glass of milk while I'm eating.
And today I have to do all of that, despite of the fact that it's my day off. All because there was a problem with the computers at the college on Friday, so I couldn't get my term paper printed. Again.
*Insert sigh here*