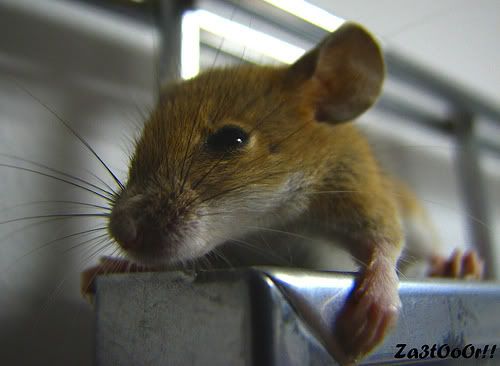 This morning, like every other morning (or noon, depending on wether I have to get up early or not), I was standing in my bathroom, doing my morning stuff, thinking my morning thoughts and feeling the morning chill that came crawling in through the old bathroom windows.
That's when I heard it…
It came from my right, from a cupboard in the corner. A small, kinda sliding sound. Since the bathroom cupboard is where I store all sorts off mess that doesn't seem to have a natural place anywhere else in the house, I thought something had just fallen over in there, or something. But then it came again, with more scratching this time. And it wasn't from inside the cupboard at all, but from the wall behind it. That's when I realised that it had to be
them
. They'd returned. It was...
The Mice
.
Every autumn The Mice turn up. They come in through the basement, I think, and so far, there's been no way of stopping them. As we speak, they're probably eating through the new insulation as if it was a woolly snack. Why can't mice just stick to their natural habitat (laboratories or Disney World) where they belong?

I'd get a cat if it wasn't for the fact that the dog would eat it…
Pic by Za3toooih for www.yotophoto.com