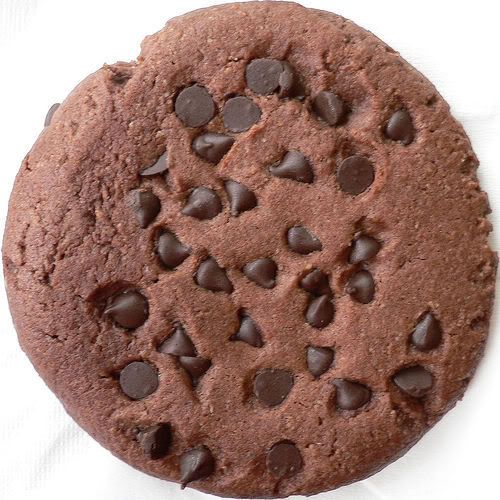 You know what? I almost forgot to post anything today. I was distracted by a bag of chocolate chip cookies. There I was, going through the cupboards – in search of carrot sticks, of course – and I heard a tiny, little voice coming from the top shelf.
"We're lonesome," it said.
I looked around, but couldn't see anyone, so I grabbed my healthy snack and just as I was going to close the doors, the voice came again. "Please don't leave us," it said.
At that very moment, the sun peeked out from behind a cloud and sent a shiny ray of light in through my kitchen window. With an almost magical sparkle, it crept over my shoulder, into the cupboard and very gently touched the bag of cookies. I had almost forgotten that they were there.
Yes, I had. No, I hadn't been nibbling on them for days. Oh, shut up!
"Take us with you," said the cookies, and the bag stretched slightly in the sun.
"I can't take you. You're not healthy," I objected.
"But we just want to sit on the table and watch TV, so that we won't be lonely anymore."
The cookies sounded very sad, indeed, and I couldn't really see any harm in them just sitting next to me while watching reruns of Friends, so I brought them.
We watched in silence for a few minutes. Once again, I had almost forgotten that the cookies were there. Joey was sitting at the central Perk with Ross. He leaned forwards, about to say tell him something in confidence, looked around to make sure nobody would hear, opened his mouth and…
"Eat me" The voice came from the table, where a small cookie had somehow made its way out of the bag.
"I can't eat you. You'll make me fat." I tried to explain why it and my waist line were natural enemies, and had just gotten past that part about how white sugar is bad, when I realised that the little cookie was sobbing.
"Please eat me," it said. "Pretty please."
I suppose one wouldn't hurt, I thought, and put it in my mouth. It giggled as I chewed and swallowed.
Another ten minutes into the show, a tiny little voice sounded from my stomach. "I miss my mummy."
And since I didn't know which one of the other cookies were its mummy… Well, what else could I do? I had to eat them all. Anything else would have been cruel.