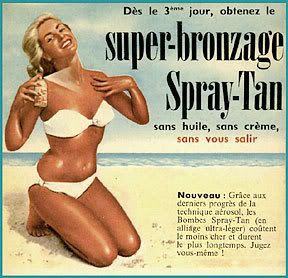 So I think it might be fair to say that summer is finally here, even though its raining at the moment, and I'm not sure whether or not I'm on vacation yet.
Every fall, winter and spring I burn off loads of calories thinking about all the things I would like to do on my summer vacation. In fact, this particular activity makes up around 60 % of my exercise regime. I dream of doing wonderful and exciting (and expensive) things, like skydiving, travelling the world, learning to fly a chopper and loosing weight so that I could have that perfect booty wear nothing but bikinis. Tiny ones. But I suppose that last one isn't going to happen as long as I insist on having food as a part of my diet.
When summer finally rolls around, all I really want to do is lie around in the sun with my nose buried in a book. Yet again I'm starting to suspect that I might be dull, but what the hell.
This summer, however, I have a whole new project going: I'm declaring war on my inability to tan. I will get a tan. Even if it kills me. And it just might.
It's funny, I can go from a cool eggshell white to a blistering hot pink in less than 30 minutes, but at no point do I get anywhere near a shade of brown. Or beige, for that matter. And every summer I am forced to watch people around me turn more and more golden. Thanks to tanning studios and spray-tans, a lot of those people also go through winter with a skin colour that would only be natural if their mothers did the nasty with a cheese doodle.
This summer is going to be very different. My project started three weeks ago, when they began to fill the stores with those body lotions containing tanning agents. It didn't go well at first. For a few days, I was forced to walk around with brown knees, whereas the rest of me was as pale as always. Then, in round two, my left leg had a nice tan, but my right leg didn't. Tomorrow I give lotion nr 3 a shot. If that doesn't work, I might just have to dip myself in paint, or something.