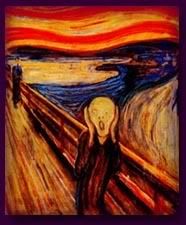 Being sick sucks. I was fairly optimistic about my health this year, actually. And although everyone around me were regularly forced to stop what they were doing in order to have coughing fits which left their faces a shiny kinda purplish colour and their eyes bulging, my denial remained strong – this would not happen to me.
But then it did.
I've spent my whole weekend being all pathetic, and I now have a tremendous need to compensate for it. However, I'm still sick and, on top of everything, it's Monday.
Have you ever noticed that tiny little germs have looong names. They'll come up to you and say stuff like "Hello, my name is Varicellovirus Alphaherpesvirinae Herpesviridae. How are you? Wonderful. That's about to change, buddy." They're obviously trying to compensate for something, but I can't for the life of me figure out what that would be. A tiny, little germ can can do plenty.