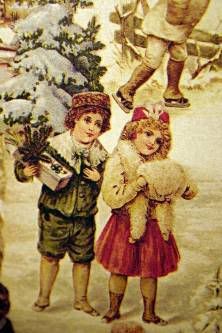 I have officially survived Christmas. I walked away from it with, among other things, money, painting supplies, earrings with tiny little diamonds in them, and an A for effort. I also survived all of my attempts of eating myself to death. Well, obviously. If I hadn't, I would, as you all know, have been haunting that castle on the cliff that I once mentioned. I'll try again next year and let you know how I do then. Or not, depending on the outcome.
New years were a pain in the soft, fleshy area. The Pooch is, as I've also mentioned before, petrified of fireworks. I tried to calm her down by putting her, and bits of our turkey, in her cage, covering it with blankets so that she couldn't see anything. That's how you calm down parrots, anyway (well, I suppose the bits of turkey wouldn't really be a good idea if you're trying to relax a parrot…). The Pooch then successfully proved that she's not a parrot.
In further news, it's my
a
n
n
i
v
e
r
s
a
r
y
today. I'm a year old. The blog is, anyway. Yay me!