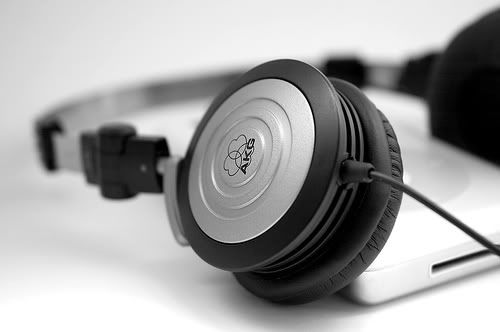 I'm a total music junkie. My mp3 player is only a little over a year old, and it's already showing signs of stress. Not quite the kind of stress that'll kill it, but no doubt it's working on it. I have worn out so many stereos, walkmans and disc players over the years, I lost count ages ago. I'm guessing it's an addiction that's developed from growing up in a family with lots of musicians. Maybe it's genetic, I dunno. Even if it isn't, the never ending jam sessions that always follow when family members visit or going with your mum to various musical gigs as a kid, will get you in the end.
So, obviously, when one of my earplugs stopped working the other day, it was a total crisis. Kinda like Enron, only much, much bigger (my little universe is very important to me and operating on a parallel level from the rest of the world). I needed new ones. Fast. I could feel the withdrawal getting stronger with every passing second. The world with actual sounds in it, rather than music, is a weird place. And kinda annoying, really.
I rushed straight into town, where I bought myself a new pair of earplugs. With a feeling of tremendous relief, I ripped them out of their plastic cocoon and plugged them into my mp3 player. I pressed play, expecting to hear David Bowie singing in my ears. But Bowie didn't sing. In fact, he barely whispered. Even turning the volume all the way up, couldn't encourage him up to speaking level.
Pissed off, I was. I mean, if you gave Richard Burton a glass of iced tea and called it booze, he'd probably kick your ass. And that's what I felt like doing to whoever created this piece of doo-doo (or however you spell that). The only other pair they had, cost 25 bucks and looked like something out of a sci-fi movie. But, being fairly desperate, I got them.
I opened the package carefully this time. The happy feeling kept itself at bay for now. I plugged them in, just like the last time. Then I forgot all about turning the volume all the way up, and nearly made my head explode…
So I'm deaf (well, not really), but at least my ear plugs work.