Yesterday started out fantastically boring. It was plain and simply dull. I was sitting by my computer, having an IM conversation with a friend, rolling in my own tedium, when I suddenly heard a strange sound from the corner of the kitchen where the oven and the refrigerator lives. It was sort of like tapping on metal. Every time I heard it, I got up from my chair to investigate, but all became quiet as soon as I did.
Thinking that it was probably nothing, I returned to my chair and my conversation. Just as I had almost stopped thinking about the whole thing, I saw, in the corner of my eye, something small, brown and roundish dart out from behind the refrigerator and disappear behind the dog's feed barrel. "Mouse!" shouted The Voice that lives inside my head.
In a split second, my attention was ripped away from my computer screen and towards the barrel. Somewhere along the line, I let out a gasp. The dog, which up until that moment had been snoring away in the livingroom, immediately flew out of the couch and came running. Somewhere in her puppyhood, she made the connection between gasps and something happening. As far as gasps go, this was a good one, and she was determined no to miss the cause of it.
Now I was sitting on my kitchen chair, stiff as a board, my eyes darting back and forth between the dog and the barrel. The pooch stood in the middle of the kitchen, ears pricked upwards, looking around, wide-eyed. Her whole body was tense and her tail wagged, not just from side to side, but around in circles.
The mouse chose this moment to make a run for it. Around the side of the barrel it went, towards the door which leads into the hallway. To a rodent on the run, it probably seemed like a good place to hide. The mouse and the pooch spotted eachother at the same time. Immediately, the doggie rushed forwards towards what she perceived to be a nice, crunchy snack. The mouse was rightfully terrified as it aimed for the door, moving much slower now than it initially had. I managed to slam the door shut between it and the dog before something really gross happened.
There have always been mice here in winter, living inside the walls, and I've gotten used to that, but I don't want them on MY side of the walls. Now there was one in the hallway. That's just great.
A quick search online told me what mice like to eat and how to place the traps to make sure that they are killed immediately when they walk into it. I also have a new respect for the intelligence of rats, but that's a whole different story. After a few moments of procrastinating and feeling sorry for the mouse, which was kinda cute, after all, and hadn't really done anything wrong (that I knew of), I loaded up four traps with bread and placed them around the hallway. Then I took the dog for a walk.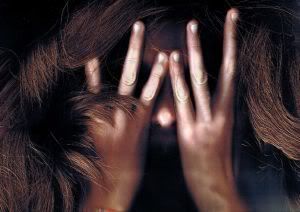 "There's no point in checking the traps this soon," I thought when we got back. But I did it anyway. And sure enough, there it was. Apparently it liked bread more than I thought. At first I just mentally confirm that something shaped like a mouse's butt was sticking out of it, went "eeek", turned right around and ran into the kitchen where I called my mother. I'm not really sure what good I thought that would do.
Then I got a broom, swept it up, went "eeek" again and dumped it into the trashcan outside, trap and all.
And that was my day.