When I become a ghost, which is definitely on my list of things to do (towards the bottom, right between dieing and watching Elvis eat a peanutbutter sandwich), I'm not going to be like one of those idiot spirits on TV-shows like "The ghost whisperer".
Say that I want to find a man named Elmer. I wouldn't go around leaving dumbass messages such as "search for the man with the tiny nostrils" or "find the bloke with the missing pinkie." No. I would get myself a permanent magic marker (I figure that when you're a ghost, you can just walk, or float or whatever it is that ghosts do, into a store and nick one) and write the fellow's full name and address on the wall of whoever was lucky enough to be haunted by me. Not only that, I would also include telephone numbers, because unlike all the moronic phantoms on TV, I would have the intelligence to look him up in the phone book. Honestly, if you can make lightbulbs explode and things move by themselves, you can open up a damn phonebook. If possible, I would also draw a tidy little map of how to get to Elmer's house.
Another thing you won't see me doing when I become a ghost, is floating around hallways and such at night, looking depressed. I'm going to enjoy myself, I am. If I get hungry – although I'm not sure what a spectres metabolism might be like – I'll just swoosh on down to the nearest supermarket and pick out whatever I want. I also figure that ghosts can eat whatever they want to, without gaining any weight at all. If I feel like reading something, I'll go to the bookstore and get it. All in all, the possibilities are endless. These activities would probably have to take place at night, though. After all, I wouldn't want anyone to get too freaked out and decide to exorcise me. That would be very unpractical. Besides, the idea of someone showing a cross into my face and shouting stuff like "I expel thee," gives me the creeps (the first time I saw that movie, I was sure he said "
propell
" rather than "
expel
". Made for an interesting scene).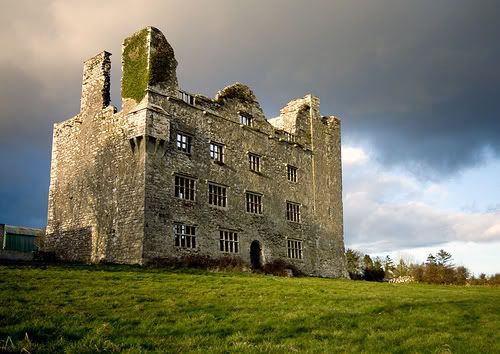 I'd also like to find myself a nice mansion or a castle to haunt. Something with lots of room for me to hover, drift and glide to my hearts content. Perhaps something by the seaside.
I won't be the most law-abiding poltergeist around, but I'm sure that if I continue to be a good girl in life, my conscience won't be too bothered with it. Besides, it's not as if they can arrest me, now is it?